Dental Implants in Meadowbank
If you're looking to replace missing or damaged teeth, dental implants are an excellent choice. They're the most natural looking option, and unlike dentures, you don't remove them for cleaning, and you can still eat the foods you love. You take care of dental implants as you would your natural teeth, and to the untrained eye, they appear to be the teeth you were born with. That's why dental implants are the best option in dentistry outside of your natural teeth.
If missing or damaged teeth have left you feeling self-conscious, restoration through dental implants is the perfect option to give you back your confidence.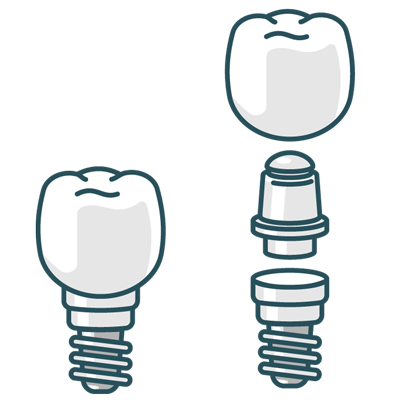 What Are Dental Implants?
Implants are fixed appliances screwed into the jawbone to replace missing teeth. With their titanium roots, they provide a solid foundation for the replacement crown. We use the ______ System in our practice.
To start, Dr Park (Dentist) will X-ray the area receiving the implant. A determination will be made as to whether the bone is strong enough to support the implant. After reviewing your medical history to ensure you can physically handle the procedure, we'll discuss the cost and schedule a date for the surgery.
The ideal scenario is to have no damage or fillings in the teeth surrounding the implant.
In most cases, a single implant does not require any bone grafting. More than one tooth may necessitate grafting, known as a GBR, to build the area in question. Additionally, several missing teeth will require a bridge, which can damage other structures.
CONTACT US

When missing teeth are left untreated for many years, they may also place additional strain on other teeth. The resulting imbalance can lead to chipped or fractured teeth. As technology advances, dental implants continue to evolve. They are considered the highest standard of care when it comes to replacing missing teeth. At Meadowbank Family Dental, we offer dental implant solutions to ensure you receive the quality care you deserve.
Greater biting force than dentures
Option feels and looks natural
Improves the appearance of 'hollowed' cheeks, which occurs after a tooth extraction
Firmly secured into the jaw
Do not require support from adjacent teeth
Can be cleaned with normal routine at home, unlike dentures
The planning process begins with diagnostic tests to confirm you are a suitable candidate for the procedure. This includes a dental examination, photographs, dental casts of your teeth, and a 3-D X-ray of your jaws. This information helps us plan the appropriate treatment for you.
Next, we discuss your full medical history to ensure your safety throughout the whole process. Dental Implant surgery is routinely performed at our practice under local anaesthesia. Patients are able to drive home after the procedure, and many return to work the next day.
After the initial surgery, patients usually require at least two weeks for full healing. Bone regeneration can take 4-6 months before the crowns can be placed.
Getting Started
Call us today to schedule a preliminary screening to see if a dental implant is right for you. Contact us at (02) 8057 1086.

Dental Implants Meadowbank, West Ryde NSW | (02) 8057 1086