Orthodontics in Meadowbank
Orthodontic treatment has become more common as people discover the long-term aesthetic and functional benefits of having their teeth straightened, and restoring their natural smile.
Types of Orthodontics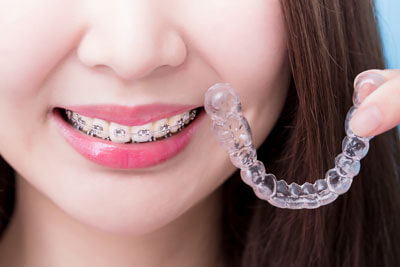 There are two main types of orthodontic appliances: fixed and removable.
The conventional fixed orthodontic consists of a metal bracket affixed to the surface of the tooth and connected by wires that slowly pull the teeth into alignment. The average treatment lasts about two years with/without extraction, resulting in a beautiful smile with a corrected bite.
Maintenance of conventional brackets and wire braces is more difficult, as food can get caught easier. More brushing is necessary, and there is a possibility of decay.
Removable/Clear Aligners are best for mild-to-moderate problems with crowding and alignment. The best known brands are Invisalign, ClearCorrect, and ClearPath. We recommend ClearCorrect in our practice.
Meadowbank Family Dental believes ClearCorrect is one of the leaders in clear aligner orthodontic treatment. The transparent, removable aligners straighten your teeth by applying gentle pressure on key points throughout your smile. It uses a series of clear, virtually invisible, computer-designed, custom-moulded aligners. If the idea of metal braces is standing between you and a straighter smile, ClearCorrect is a great alternative.
CONTACT US

Advantages of Clear Aligners Over Braces
Nearly invisible—ClearCorrect aligners are virtually invisible.
Removable—Invisalign aligners are made with SmartTrack flexible material, making it super easy to insert and remove, unlike fixed braces.
Better Oral Health—ClearCorrect aligners are removable, so you can still floss and brush your teeth as you would normally do. Braces make it difficult to clean between the metal brackets.
Less pain—SmartStage and SmartForce technologies are designed to reduce discomfort and irritation.
Less doctor visits—Depending on the complexity of your case, some ClearCorrect treatment options may be finished in as little as six months.
Clearer time lines—ClearCorrect gives you a clear picture of the treatment duration. With braces, your doctor can only give an approximate duration at the beginning of treatment.

Orthodontics Meadowbank, West Ryde NSW | (02) 8057 1086