Veneers in Meadowbank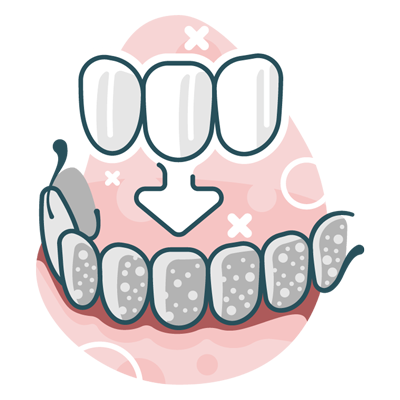 Common imperfections in your teeth, such as chipped, misaligned, gapped or severely stained teeth, may make it difficult for you to show your smile. At Meadowbank Family Dental, we provide a wide range of options to improve your smile. Dental veneers may be a good option to restore your smile and confidence.
What Are Dental Veneers?
Dental veneers are a thin, tooth-coloured porcelain shell which is bonded to the front of your existing teeth. This method involves the minimum amount of tooth loss. Most often done for cosmetic reasons, dental veneers change the colour, size, shape, or length of your teeth, improving your appearance.
Veneers are made of a highly durable material that generally lasts around 10-15 years. They reduce discolouration and resist staining, and only require regular maintenance. In our practice, we recommend using porcelain. Although it's more expensive, it has better durability.
What Can I Expect?
The first visit is the consultation. We'll discuss your goals, and Dr Park (Dentist) will make a mock-up so you can see what the final product will look like. You'll receive a dental exam, and the teeth will be prepared for the new veneer.
The veneers take about one week to produce. We send them to a laboratory, where they reproduce the shape for your veneers. After the dentist receives them back, we make certain they're the ideal fit, shape, and colour-match for your natural teeth. If all is well, they'll be permanently bonded to your teeth.
NEW PATIENTS
What Are Some Benefits?
Gum tissue easily tolerates porcelain.
Veneers have the appearance of a natural tooth.
Veneers provide a more conservative method of changing a tooth's appearance. Usually, they don't need the extensive shaping crowns do, and they offer a more aesthetically pleasing and stronger option.
Porcelain veneers are resistant to stains.
With porcelain veneers, you can choose the colour, which is ideal if your goal is to make dark or stained teeth appear whiter.
Ready for The Next Step?
Contact us for more information and book an appointment today.

Dental Veneers Meadowbank, West Ryde NSW | (02) 8057 1086